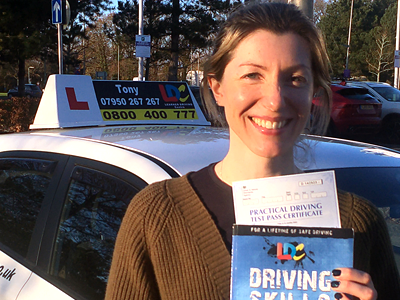 Alex
Passed First Time
"THANK YOU! I genuinely feel I would have struggled to pass with a different instructor, you never seemed to doubt my ability even when I thought I was doing badly and your patience and willingness to listen made so much difference to my learning experience. Your love and enthusiasm for your job is very clear to see, and your support and advice regarding all aspects of learning to drive made all the difference. The accents, singing and terrible jokes were also a good distraction at times. While I never managed to find driving 'fun', I usually enjoyed the lessons!" About Tony's LDC Driving School, Alex says: Communication with Tony's LDC was excellent at all times. The LDC Driving Skills Workbook was very useful: simple and straightforward to follow, whether reading generally or looking up a specific topic. Tony was extremely patient, kind, cheerful and positive throughout; he took my anxieties and worries into account and adapted his teaching approach without ever making me feel like I was making poor progress.'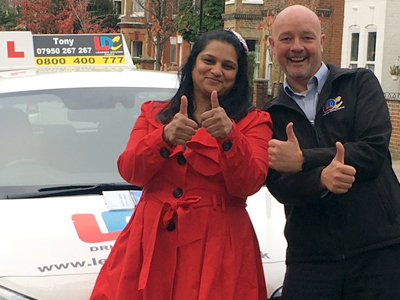 Begum
Thank you for being so patient, Tony. You helped me work through my anxiety and struggles, supported me during my [ill-health], through lockdown and other difficulties I experienced. You understood and supported me all the way through. There were days I felt hopeless and you were always positive and never shouted at me or told me off. I was definitely a special case and it seems like a dream I passed! I had to pinch myself several times. I have no words – you are the best driving instructor! Thank you.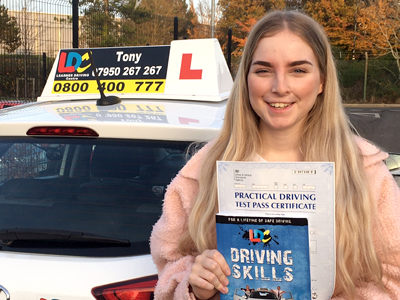 Abbie
Passed First Time
Thank you for being such an amazing instructor, getting me back on track when I almost gave up and helping me pass first time. I found the LDC Driving Skills workbook very helpful. It has specific checklist points so I was able to identify my weaker areas, whether that was theoretical or practical. The weekly overviews were also very useful at reflecting on lessons and enabling me to plan a productive session the following week. Communication from Tony was excellent. I found his manner very professional, he was very organised, calm at all times and I appreciated his honesty at various stages of my learning. He was determined to work on my weaker areas so that I could improve faster, and he was able to make me feel relaxed in more stressful situations. His explanations were also very thorough with the use of diagrams, notes and demonstration drives which allowed me to understand certain aspects in greater detail. He was also very encouraging and pushing me slightly out of my comfort zone which really built my confidence.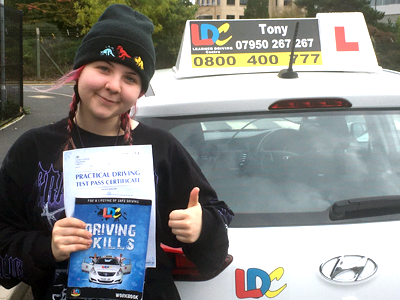 Charley
Amazing!
Thank you Tony for continuing to be such an amazing instructor through everything that's happened Covid related or not. It's been amazing having you teach me and I couldn't have asked for a better instructor! Tony's teaching style was adapted to suit me and felt very relaxed; I always felt like I was in control of our lessons and the different methods he used for teaching different things was amazing, e.g.: use of diagrams, demonstration drives, etc. I really liked how Tony would get me to answer my own questions as it helped me solidify my own knowledge. The LDC Driving Skills Workbook was nice to have to fully reflect and visually see what i needed to work on. The extra bits about the practical test e.g. the show me tell me questions were very useful. I will really miss our lessons together as I think you're such a lovely genuine person and an incredible teacher with so much to offer. Thank you for putting up with me and my madness and finally getting me through my test!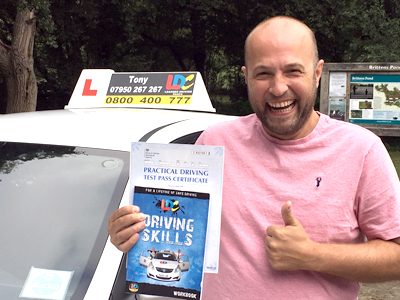 Tom
Being an older driver, my nerves got the better of me and within the first few lessons, I had doubts on whether I could drive or not. Without a doubt, I wouldn't have been able to pass my test without the support, help and training that Tony has given me. The way he taught the lessons were professional and constructive, his teaching style is relaxed and encouraging and he adapted his style to suit my needs. The car was immaculate all the time and the LDC Driving Skills Workbook was very useful - it was fantastic being able to reflect on lessons and then to plan future lessons. I really can't thank Tony enough for everything he did. It's confirmed to me that I chose the best driving instructor in the area.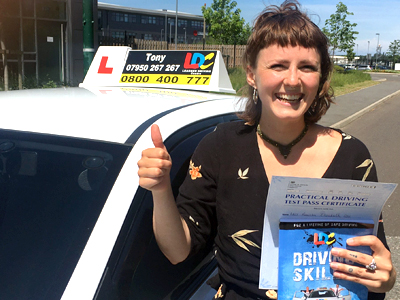 Noushie
First Time Pass
Tony made my first driving lesson in months feel far less nerve racking and far more enjoyable than I had expected. He was extremely helpful and guided me through the lesson with much patience and a calming energy. He communicated thoroughly to me at where I was going wrong, gave me the skills to correct it and then you could see his genuine excitement for my improvements, showing me just how passionate he is about his job. I very much look forward to my next lesson with Tony.
Note: Noushie (via Google reviews) wrote this after her first lesson with me and the photo is six days later after a semi-intensive training course.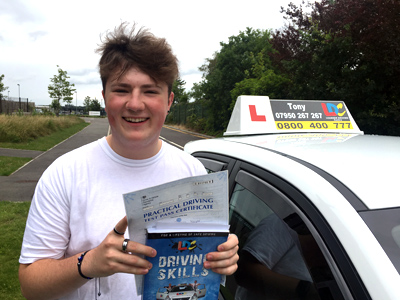 Patrick
First Time Pass
Not enough good things to say about learning with Tony! He is super patient and has lessons centred around us as students rather than dictating what we do which I found to be really helpful as I had to evaluate my progress for myself. He has a really relaxed teaching style and is very knowledgeable so no questions are left unanswered. Definitely recommend to anyone needing to learn to drive :)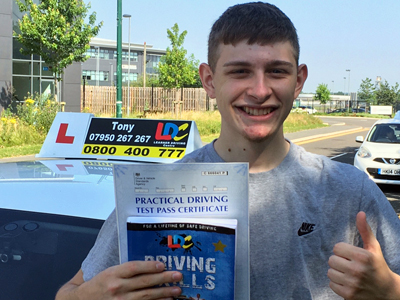 Connor
First time pass
The LDC Driving Skills workbooks are filled with many diagrams and pictures to help visual learners like myself. Not only that but the book goes in depth about each topic which i found extremely helpful when learning. The car was clean, tidy, comfortable and nice to drive. Tony was very helpful, understanding and easy to get along with. He has a relaxed teaching style that I found helpful and encouraging; he listened to my needs and always had a way of finding an explanation to help me understand if i was not sure on something. Thank you for your support and encouragement over the course of my learning experience. you've been a great instructor and an overall fun guy to be in the car with. take care mate :)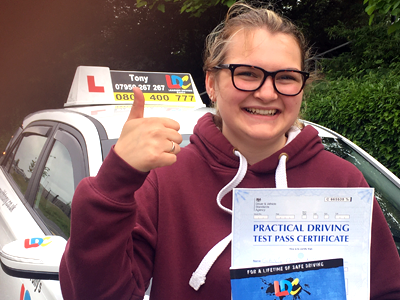 Gabi
Passed 1st Time
I was very impressed that Tony was very quick to get in contact with me and I found him extremely accommodating with my work schedule which was a plus. Never easy trying to plan lessons around working hours. The car was always clean and tidy and it felt like stepping into a brand new car every time. The [online] theory hub was very useful and the [LDC Driving Skills Workbook] had everything you needed to know and more about driving. There were loads of resources given to me to study even when I wasn't in a lesson and I read the book and studied that so I was prepared for my lesson. Instead of just talking at me, Tony explained what we would be doing and we discussed as a team what and how we will be doing [what] I needed practice in. Tony was always positive, made light of nervous moments which helped me relax, explained instructions clearly, was patient when I made mistakes and we talked them through after which helped me learn from them. I appreciate the calm manner you have, your knowledge and your perseverance with me. I enjoyed my driving lessons cause you enjoyed teaching them. Thank you for the support and helping me achieve my goals!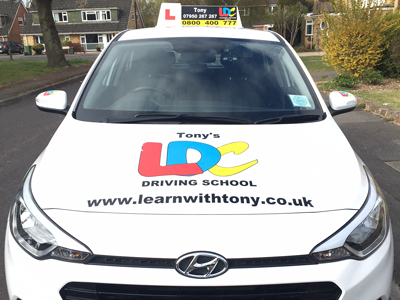 Libin
6 stars!
If I could give 6 stars, then I would give it to Tony for his excellent support and guidance to help me get my driving license. As a background, I had driving license from US and India with almost 15 years of experience and still UK roads and traffic were a challenge. Last year I sought out help from a driving instructor to evaluate my driving and guidance, however it wasn't not at all helpful. Two months ago, I found Tony and needless to say it was the right decision. Tony didn't treat me like a beginner, he didn't push me to change the way I was driving, he observed and guided me where I have to improve in my signal handling and hazard drills and give key pointers in following the signs (some of them I have never heard or read about). His calm and composed instructions are another highlight and helps to keep the nerves at check. Now I wish that I had found him last year itself and I would have passed my test rather than waiting for another 7 months to do the re-test. I will also add that his advice and instructions are not just only meant for passing the driving test, rather he teaches in a way that we can follow it in future for a safe and calculated driving. He is a wonderful instructor by all means and I am really grateful for his instructions to get me pass my driving test today !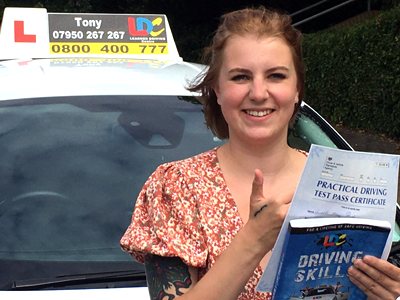 Hannah
Determination sees you through Well done Hannah!
Nice guy. Great teacher! Tony was good at keeping in contact and replied fast to messages. I liked the LDC skills workbook which is very clear and I liked the pictures. It was good to be able to write about lessons and keep a log in the book. The car was always clean inside and out and I thought it was a great car to learn in! It didn't suit me always that I was asked to decide what to work on but Tony was helpful and encouraging and he's a good listener. I liked that he can adapt to fit around what you want to work on, such as any weaknesses. Thanks for teaching me :)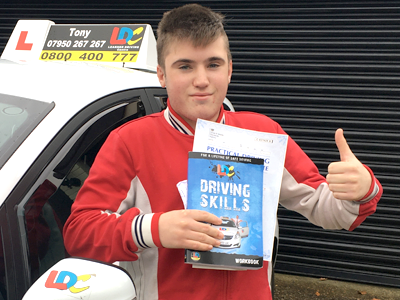 Albert
Passed 1st Time
A first time pass was always on the cards for Albert. The UK's youngest pilot to fly solo* and the holder of a motor racing licence it was a real treat to coach Albert to obtain his driver's licence. Not to mention the welcome opportunity to discuss the more technical aspects of car control 👍 *Meet the UK's youngestyevery solo pilot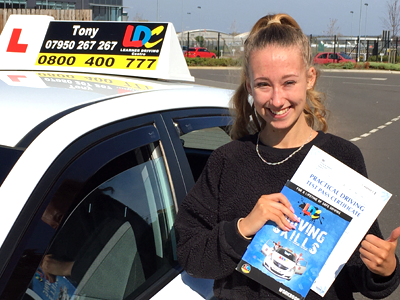 Abbie
First time pass
Tony is perfect in every way!!! His teaching style is amazing - always happy to explain and demonstrate to help you understand. He is exceptionally professional always arriving on time and having the correct manner constantly. He was always calm when things went wrong and made me feel calm after a fault. During COVID I was always informed of what was happening with both driving lessons and tests and I was regularly updated. I liked the LDC skills workbook and being able to read about anything I was unsure about and to record what was been done in the lesson and to plan for future lessons and private practice. I liked the theory learning hub too being able to revise easily with all the resources being in one place. Thank you for everything!!!! If it wasn't for you I wouldn't have the confidence on the road like I do now!!! You are an amazing teacher, I would 100% recommend you to anyone (I already have). I will surely miss our drives and your accents. Thank you again :)))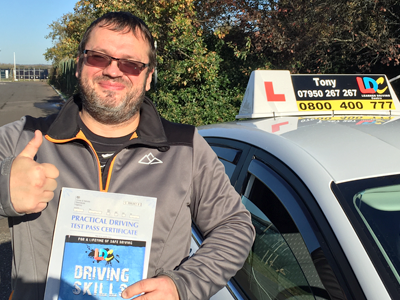 Miro
Amazing!
Tony is a great instructor with an amazing and caring personality. I found him calm in every situation and he finds the techniques to suit your needs. The car was spotless inside and out and communication was spot on. I liked that the LDC Driving Skills workbook helps to get understanding. A great teacher and amazing person - ticks all the boxes. Recommended.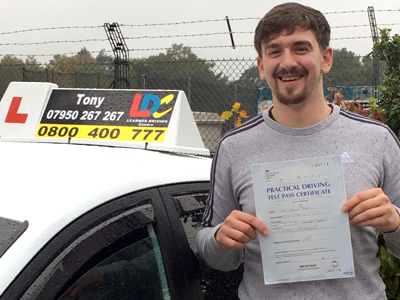 Todd
First Time Pass
I really enjoyed learning with Tony. He taught me new skills and explained how do things correctly and safe. He didn't just help me pass my test but how to be a good, safe driver. I particularly liked that he let me do what I wanted, pointing me in the right direction and correcting my mistakes. He always asked what I wanted from the lessons rather than telling me what do do, which is what I thought would happen. I was sceptical when I started lessons but Tony was friendly, made me feel welcome and involved me in the learning process right from the beginning. I couldn't have had a better instructor and definitely recommend Tony!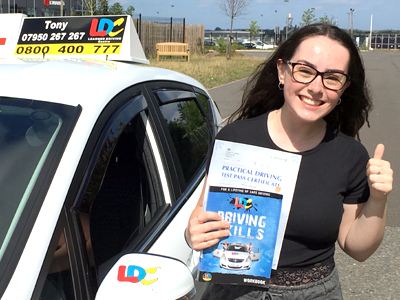 Chloe
Passed first time
Tony was great at conducting himself in a very professional manner and was always smartly dressed. He was great at keeping in touch and always confirmed when he would arrive for lessons, which was super helpful. He was also very humble and always knew how to make me feel at ease. I'm very appreciative of Tony's teaching style as it allowed me to develop so many great skills. One of my favourite things Tony taught me was all round awareness and using that to plan and make decisions, which is something I will carry with me for many years to come. Tony was great at giving feedback to me at the end of every lesson and I loved being able to reflect on each lesson using the [LDC Skills] workbook which really encouraged me to focus on my weak areas which helped to improve my abilities. I followed Tony's Facebook page which was updated regularly and notified me about changes being made by DVLA/ DVSA. I loved seeing other people's achievements too. Thank you so much for all your help and support, I honestly don't have one bad word to say. I'm so thankful that I had the privilege to learn with you and wish you all the very best! :)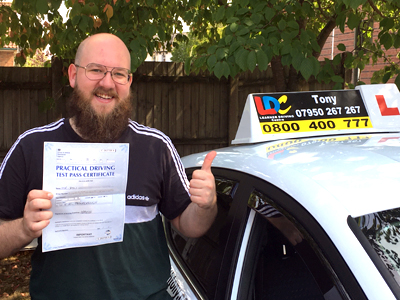 Jan
OUTSTANDING!
Communication with Tony was outstanding and he always helped me anytime. Learning during COVID-19 pandemic was not easy and he was sanitizing whole vehicle before and after each lesson. Spot on! Tony love his job and he is taking it very serious. Always smart dressed and ready to go. He knows the balance between social chatting and professional learning. His teaching was OUTSTANDING! I was very nervous at the beginning, Tony managed to find why it was happening and adapt to my learning style. He clarified every aspect of driving and now i am very confident while in a car. I wanted to say a BIG THANK YOU! I was listening carefully to your instruction and it payed off. When I noticed your patience and knowledge I knew I found the right person. You do what you love. You are also very smart and funny what made our lessons very entertaining. I am glad that I met you and I appreciate every single lesson we had.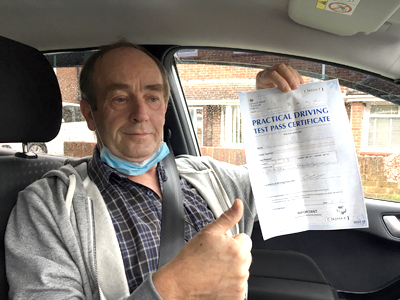 Frank
Passed with one minor fault
Tony was very knowledgeable, experienced and patient. He was always punctual and one time although a bit on the quiet side!! As an older driver I was a bit worried what an instructor might think but I found Tony to be non-judgemental and he took the time to analyse and explain things very well. Overall my experience was very good. I couldn't fault Tony at all. Thank you!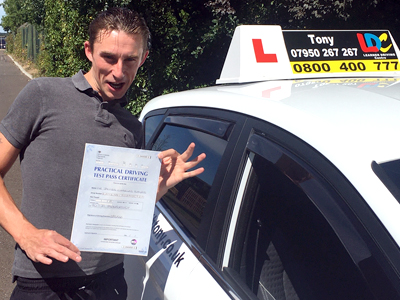 James
Tony is an absolute legend! He shows the best way for learning if you've got bad habits with driving and if you're nervous. I passed my test and I couldn't of done it without Tony.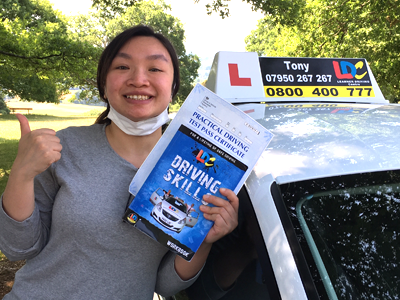 Sheron
I cannot thank Tony enough!!! I really do not think i will pass my driving test with what has been going on without him. I have failed two practical tests previously and I was really stressed having to take the test the third time. I never thought i would say this but i actually look forward and see myself driving confidently. Considering i had a full-on nervous breakdown on my first lesson [work/covid stress], that says a lot!
As a pharmacist, I am very happy with the level of hygiene and the safety precautions that Tony is taking during my lessons in the covid period. I feel safe when i was having lessons during lockdown to prepare for my key worker driving test. I can go on and on, but i really cannot recommend Tony enough!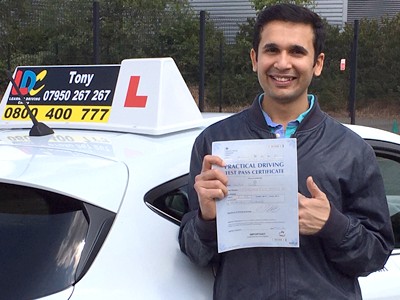 Guatam
Passed with one minor fault
It was absolute pleasure working with you. You have been very patient and helpful in your approach, understanding the weak areas and helping to improve my driving skills and boost my confidence around those tricky roundabouts! I really appreciate you doing driving lessons during the COVID crisis. It was very helpful for a critical worker [SHO, General Surgery] like myself. I am thankful to you for agreeing to go ahead with the lessons and helping to arrange the emergency driving test. I would also like to mention the strict hygiene standards you maintained all throughout the sessions and all safety and hygiene precautions all throughout: using hand sanitisers, wearing masks, avoiding physical contact, and giving the car a thorough clean on the inside before and after the lesson were really good preventive measure overall. I would like to once again thank you to help me get my driving licence. I would definitely recommend you to my friends and colleagues.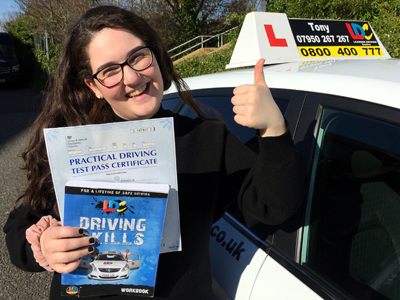 Anastasia
Tony is a very good instructor. He is very supportive, patient and funny. He adapts to your needs and is a professional. He helped me to gain confidence on the road and taught me how to drive safe. He is the best instructor I could ever have and recommend him 100%. Thank you very much Tony!!!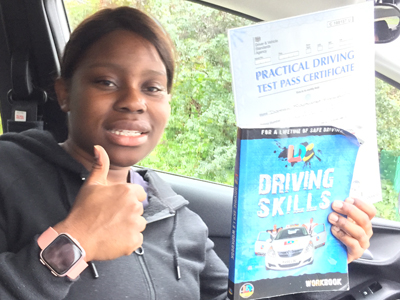 Doreen
I have had a total of 4 driving instructors during my time as a learner and it was Tony's teaching style and ability to adapt and motivate me that enabled me to believe in myself and finally pass. I really liked the [car]. It was not too big or too small, I felt comfortable and safe in it and it is the perfect vehicle to learn in. The workbook is well designed and was extremely helpful in tracking my progress. Information was easy to understand, particularly the use of graphics. Quizzes at the end of each chapter kept me engaged. Tony was a wonderful instructor! Initially, the thought of driving was scary for me but as a nervous learner, Tony's patient and calm demeanour allowed me to gain confidence on the road. I needed an instructor who was motivational and could deal with my nerves and he was that person. He is very amicable and has a good personality that puts you at ease. I wouldn't have managed to pass without him. Thank you so much!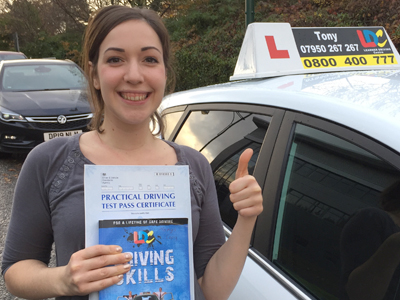 Georgia
First time pass
I started my lessons with Tony after learning on and off with other instructors over the last few years and had never attempted a test but I booked a chunk of hours with Tony and in 2 weeks I took my first ever test and passed. Patient, encouraging, supportive and professional. I'm glad I went with Tony. You are a great teacher and all of your students are very lucky to learn with you.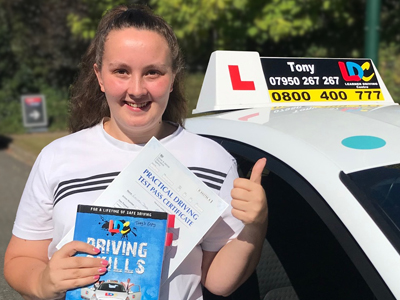 First time pass (0 faults)
Tony is supportive and very patient. He has a friendly manner and adapts to your needs. The theory hub was very useful to help gain more knowledge and the workbook had all the information that was needed. Would recommend Tony 100%!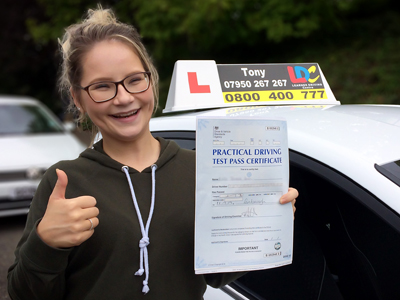 Jemma
THANK YOU THANK YOU THANK YOU!!
I previously had two other driving instructors and taken four tests, I was beginning to feel incredibly discouraged and hopeless. Tony was incredibly patient, and made an effort to calm my nerves and get to the bottom of why I would 'freak out' on previous tests. Tony's teaching style helped to build my build my confidence and remain calm, and he did a fantastic job adjusting to my needs and reading me to know how to coach me. I genuinely believe I could not have done it without your continual support to build me up, I am still in disbelief!!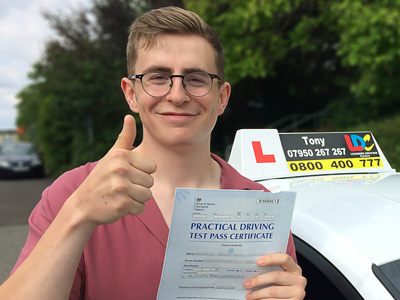 George
First time pass
Tony is a fun and efficient instructor. we got working quickly on all my faults at the start and I progressed well all the way up until my test, processes were explained in ways that I could understand. Would highly recommend to anyone looking to learn in a fun and adaptive way.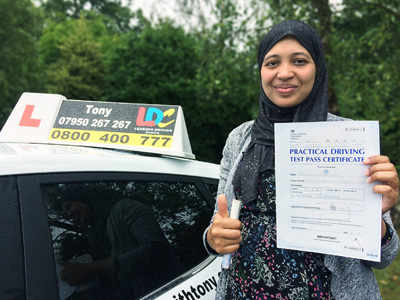 Zineb
Passed with 5 driving faults
I thank you so much for your help and patience! Communication with Tony was amazing and the learning hub I found really helpful. Tony's teaching suited me and he was friendly, professional, helpful and nice throughout my training. The car was always clean and tidy too. I'd recommend him!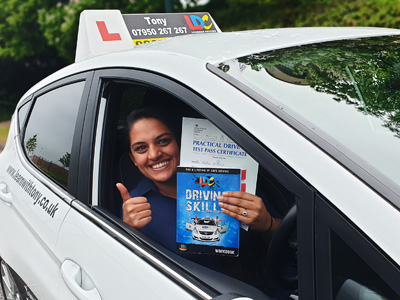 Shikha
First time pass (0 faults)
Tony is skilled in creating a good rapport and keeping his cool. He was always professional and I felt comfortable and safe in the car. Tony has a relaxed and encouraging teaching style - he listened to my needs, explained everything well and adapted his style to help me. He didn't just teach me how to pass my test, but how to actually be a good driver. The LDC Skills Workbook explained different aspects of driving and it was helpful to reflect on lessons and track my progress. The theory hub was user friendly, gave good visual representations and it was helpful that Tony could see my progress and provide tips and hints where I was struggling. The car was well maintained and Tony was always prompt with queries and responses outside of lessons. He was flexible about schedule changes and would always let me know in plenty of time if there were any alterations with lessons. We went on a wonderful journey together and you've taught me some invaluable skills. Massive thank you!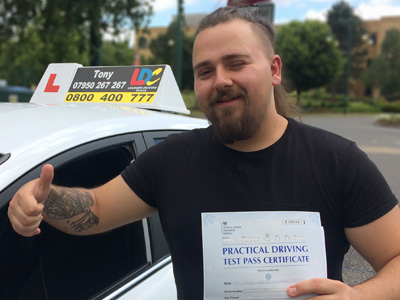 Syd
First time pass
I passed my driving test and a massive thank you is in order; from my first time behind the wheel ever to test ready in 6 months, with plenty of laughs along the way, I couldn't have asked for a better instructor. Anyone eager to get driving, I thoroughly recommend this absolute legend. Cheers mate!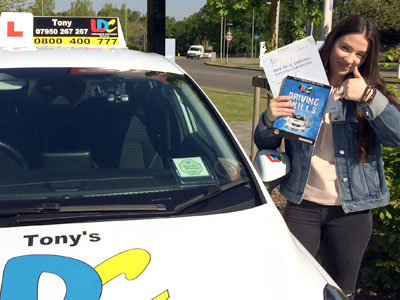 Gaby
First time pass
Thank you so much for helping me pass my driving test first time!! The car was always clean and tidy inside and out and Tony acted in a friendly and professional manner throughout my training; he was relaxed, helpful and encouraging. The LDC Workbook was useful and online theory hub was very useful: it had everything you need on there and I found the videos for each lesson helpful. There was a heavy focus on my needs, which was so helpful because if I couldn't focus on one thing we could move to something different that I could focus on. I honestly couldn't have done it without your great teaching!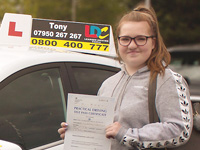 Eleanor
First time pass
Tony was always friendly, professional, well-mannered and listened to any problems. But he also has a relaxed teaching style that I found helpful and encouraging. I felt comfortable and safe when driving. He listened to my needs and I loved that he went in depth into different techniques and ways to do things. I found the Facebook support group really useful and I liked that Tony put different videos and pictures of things that would become useful when driving. I loved the car, which was always clean and tidy inside and out. Thank you so much for helping me pass and finding more confidence in myself!
A Pupil
Testimonial from a shy pupil who passed her test with two minors
Tony was friendly and professional, made me feel at ease, boosted my confidence and was honest with me - whether I was making progress or mistakes. Tony made sure I was comfortable and I liked that he was aware that people learn in different ways and was flexible in how he delivered information, asking how I wanted to be reminded of things and how I wanted certain tuition. The best thing about Tony's driving school is Tony - very efficient, always on time, does what it says on the label. I would recommend Tony without hesitation.